Japan's stocks trade sharply higher on Monday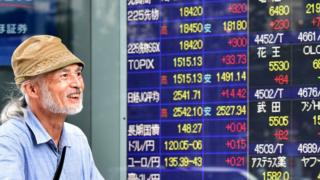 Shares in Japan traded sharply higher on Monday as investors continued to cheer Friday's surprise move by the central bank to cut its rates.
Tokyo's Nikkei 225 closed up 1.98% to 17,865.23 - its highest close since early January.
The benchmark closed up almost 3% on Friday after the Bank of Japan cut its rates to -0.1%.
The move is designed to spur inflation, investment and spending. Analysts said it was a turning point for the bank.
"They have made it clear that they can take interest rates deeper into negative territory from here and, given its current quantitative easing (QE) program seems deemed to fail, one should expect the use of negative interest rates far more prominently," said IG Markets' Chris Weston.
China's factories
Elsewhere, manufacturing activity in China, the world's second biggest economy, shrank more than expected in January from a month earlier, which dented confidence among investors.
Hong Kong's Hang Seng index closed 0.5% lower at 19,595 in afternoon trade, while the Shanghai Composite was down 1.8% at 2,688.
China's official Purchasing Managers' Index (PMI) came in at 49.4 for the month compared to December's reading of 49.7. The data marks the sixth month of contraction in the sector.
Expectations were for a reading of 49.6 for the month. A reading of above 50 indicates activity has grown, while a reading of below 50 indicates activity has contracted.
In South Korea, the Kospi index closed up 0.67% to 1,924.82, reversing earlier losses.
Disappointing trade numbers released early on Monday showed exports contracted 18.5% in January from a year earlier. It marks the 13th month in a row the nation's exports have shrunk and is the worst result for exports since mid 2009.
Imports also contracted for the period by 20.1%.
In Australia, the ASX 200 finished the day up 0.76% at 5,043.60 following gains in the US.