US shares recover from early falls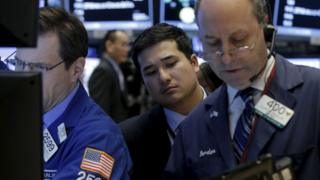 (Close): US shares recovered from early losses to end little changed.
The Dow Jones slipped 0.14% to 16,443, the S&P 500 was little changed at 1,939 and the Nasdaq Composite ticked up 0.14% to 4,620.
Shares in Google owner Alphabet jumped more than 9% in after-hours trading, taking its value above that of Apple.
The company reported net income for the last three months of 2015 of $4.92bn (£3.4bn), thanks to strong growth in online advertising revenue.
Data watch
The latest economic data did little to inspire investors.
A measure of inflation, favoured by the US Federal Reserve fell in December, reflecting falls in energy prices.
The PCE deflator measure of prices fell 0.1% in December.
Another report showed that consumer spending was flat in December, and the savings rate rose to its highest level since December 2012.
Economists say that, taken together, Monday's data will not spur the US Federal to raise interest rates any time soon.
"December's personal income and spending suggest that the outlook for first-quarter real GDP growth is encouraging, but the lack of inflationary pressure in the PCE deflator measures of prices is another reason why the Fed could stand pat in March," said Paul Ashworth, chief US economist at Capital Economics.