Tesco ends 24-hour trade in 76 stores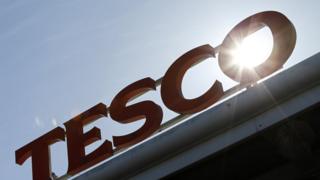 Tesco is ending 24-hour shopping at 76 of its stores - around one in five of those currently open around the clock.
The company says the growth of online shopping means that certain shops had few customers during the night.
Normal night time activities - such as refilling shelves - will continue in the supermarkets so Tesco says the impact on employees will be "minimal".
The move is Tesco's latest effort to turn around its business which has been hit by challenges on several fronts.
The outlets affected will close between midnight and 6am and four hundred staff will be "affected".
Tesco says it will do its best to make sure all staff affected are "found a new position either in their existing store or stores local to them".
The outlets include those in Mickleover Superstore, Derbyshire, Flitwick Superstore in Bedfordshire and Dereham Extra in Norfolk.
There are currently about 400 Tesco stores open 24 hours a day.
"It makes much more sense for colleagues at those stores to focus on replenishing the shelves instead and making sure they're fully stocked when they open their doors at 6am," said Tesco retail director Tony Hoggett.
This is the latest step in chief executive Dave Lewis' shake-up of the supermarket's business. Since he joined the company in September 2014 he has put Tesco's focus on price cuts and putting more staff in stores in an attempt to revive the company's fortunes.
---
Tesco's problems
Accounting scandal revealed in autumn 2014. Serious Fraud Office investigation still underway
Under price pressure from discounters like Aldi and Lidl
Decline in market share
Reports its worst-ever results in April 2015 with a annual pre-tax loss of £6.4bn. Loss mainly due to falling property values, plus changing shopping habits and rise of discounters.
---
These are the branches that will no longer be 24 hour:
Addlestone Extra
Barnstaple Superstore
Basildon Extra
Bexhill Superstore
Bishops Stortford Superstore
Bridlington Superstore
Buckingham Superstore
Burnage Superstore
Catterick Garrison Superstore
Cefn Mawr Superstore
Cheltenham Superstore
Chepstow Superstore
Chichester Extra
Cirencester Extra
Clay Cross Extra
Clitheroe Superstore
Clowne Superstore
Congleton Superstore
Coventry Walsgrave Superstore
Cumbernauld Extra
Derby Mickleover Superstore
Dereham Extra
Dingwall Mart Road Superstore
Dunfermline Extra
East Didsbury Superstore
Evesham Worcester Road Superstore
Exmouth Superstore
Flitwick Superstore
Formby Superstore
Fulbourn Cherryhinton Superstore
Glossop Superstore
Gloucester Brockworth Extra
Gloucester Superstore
Goole Boothferry Road Superstore
Halifax Aachen Way Superstore
Hall Green Superstore, Solihull
Harlow Church Langley Superstore
Haverfordwest Extra
Helston Superstore
Hemsworth Superstore
Hereford Abbotsmead Superstore
Hertford Superstore
Hexham Extra
High Wycombe Loudwater Superstore
Hinckley Superstore
Ingleby Barwick Superstore
Inverurie Extra
Leicester Extra
Leighton Buzzard Superstore
Lewisham Superstore
Littlehampton Superstore
Lowestoft Leisure Way Superstore
Maldon Extra
March Hostmoor Ave Superstore
Mold Superstore
Nottingham Carlton Superstore
Orpington Extra
Royston Extra
Sheffield Infirmary Superstore
Skegness Superstore
Sleaford Superstore
South Wigston Superstore, Leicester
St Austell Superstore
Stoke-on-Trent Superstore, Kidsgrove
Stroud Superstore
Sudbury Superstore
Taunton Superstore
Toton Extra
Truro Superstore
Uttoxeter Superstore
Walsall Brownhills Superstore
Welshpool Superstore
Whitehaven Superstore
Whitstable Extra
Woolwich Extra
Workington Superstore