Japan shares jump as the central bank cuts to negative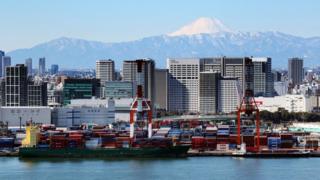 Japanese shares have jumped as the country's central bank surprises with negative interest rates to boost growth.
The Bank of Japan cut a benchmark rate to -0.1% to spur inflation and encourage investment.
Tokyo's Nikkei 225 jumped 2.8% to close at 17,518.30 points.
Earlier in the day, fresh economic data had reconfirmed the ongoing concerns about the health of the world's third largest economy.
The country's industrial output dropped by 1.4% in December from the previous month - weaker than estimates had suggested.
It was the second month of decline, underscoring that flagging external as well as domestic demand was weighing on Japan's economy.
Other figures out on Friday showed the 2015 inflation rate at 0.5% - far below the central bank's 2% target.
The BOJ rate cut is intended to spur inflation and spending.
While most stocks moved higher in response to the rate cut, banks were among the losers, expecting to see their margins squeezed even further.
New year's cash
Markets in Asia also received a positive lead from Wall Street, which closed higher as oil prices strengthened for a third consecutive day.
The Shanghai Composite up by 2.5% to 2,724.01 points, while Hong Kong's Hang Seng index climbed by 1.9% to 19,565.82 points in afternoon trade.
Chinese investment was also buoyed by the central bank's announcement it would inject billions into the money markets to maintain liquidity in the market during the Lunar.
New Year period next week.
The latest injection of 20bn yuan ($3.04bn, £2.2bn) on Friday will bring this week's injections to 690bn yuan, according to Reuters the biggest weekly injection on record.
In Australia, the ASX 200 closed 0.6% up at 5,005.50 points but commodity stocks enjoyed solid gains.
Mining heavyweights BHP Billiton for instance saw its shares up by 1.7%, while oil company Santos rose by 7.5%.
In South Korea, the Kospi index picked up on Japan surge and closed 0.3% up at 1,912.07 points.