Asian markets rally as oil prices rebound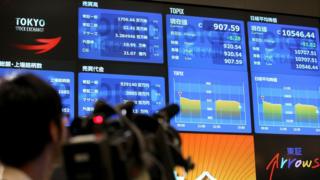 Markets in Asia have rallied, picking up on a rebound in oil prices and a strong lead from the US and Europe.
The recovery comes after a sharp sell-off earlier in the week.
Hints from European Central Bank on Thursday that it might consider more monetary easing helped lift investors' confidence.
In Japan, the Nikkei 225 jumped 5.9% to close at 16,958.53, after hitting at 15-month low the previous day.
Markets in China also managed to recover some of the past days' heavy losses.
The mainland benchmark Shanghai Composite gained 1.3% to close at 2,916.56 points, while Hong Kong's Hang Seng ended the session 2.9% higher at 19,080.51 points.
Markets were encouraged by a recovery in oil prices, which had hit 12-year lows earlier in the week.
Brent crude was up 98 cents at $30.23 a barrel, while US crude was 85 cents higher at $30.38 a barrel.
Commodity shares profit
In Australia, the S&P ASX 200 closed by 1.1% higher, at 4,916.00 points.
Among the market's standout performers were several of the big oil and commodity companies, buoyed by a rise in the oil price.
BHP Billiton and Rio Tinto were 7.5% and 3.4% up respectively, while Santos climbed 11%.
Stocks of winemaker Treasury Wine Estates also stood out, jumping as much as 17.5% to a record high after the company provided strong full-year profits guidance in a market update.
In South Korea, the benchmark Kospi index followed the region's trend, closing the day 2.1% higher at 1,879.40 points.
Draghi reassures markets
On Thursday, shares in Europe and the US closed higher, helped by comments from European Central Bank (ECB) president Mario Draghi.
After the ECB had kept eurozone rates on hold, Mr Draghi hinted that the bank might take more action to try to stimulate the eurozone economy later this year.
He said the bank would "review and possibly reconsider" monetary policy at its next meeting in March.
Mr Draghi also said eurozone rates would "stay at present or lower levels for an extended period" and there would be "no limits" to action to reflate the eurozone.