Royal Mail hails good performance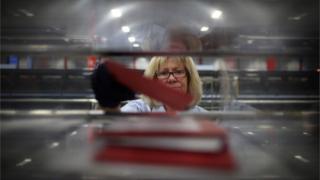 Royal Mail has said trading over the past nine months "fully met" its expectations.
It said parcel volumes had risen by 4% over the period, with volumes in December up 6% as it handled 130 million parcels over Christmas.
Letter volumes fell 3%, although Royal Mail said the performance had "improved slightly over the first half".
The company, now fully privatised, also said it was on track to deliver its cost reduction target.
The shares, which are widely held by individual shareholders following the privatisation that started in 2013, were up 3.5% in morning trading.
Moya Greene, Royal Mail's chief executive, said: "Once again we delivered a great Christmas - even better than last year's strong performance."
The company added it had made a number of investments to improve its technological capabilities.
'Challenging'
Royal Mail's operations have been under review by the regulator, Ofcom, since last summer.
It is looking at the "efficient and financially sustainable provision" of the UK's universal postal service.
The universal service is the Royal Mail's commitment to deliver to all of the UK for the same price.
Charles Huggins, investment analyst at Hargreaves Lansdown stockbrokers, said: "Conditions in the UK parcel market look set to remain challenging."
But he said that Royal Mail was in a much better position than other postal operators to "weather the storm, with around 50% of the UK parcel market, so it can invest more in technology and service.
"There is plenty of scope to reduce costs, having spent so long in public hands. This should help to support profits, at a time when rivals are seeing margins squeezed."