Japan's shares see sharp falls on oil worries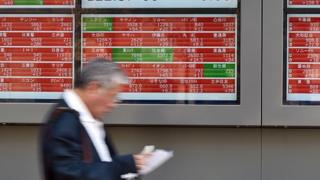 Shares in Japan fell to their lowest level since October 2014 on Wednesday as investor sentiment continued to be rattled by oil prices and concerns over growth in China.
West Texas Intermediate fell below $28 a barrel for the first time since September 2003.
Brent Crude prices made a slight recovery, but that did little to boost investor sentiment.
The Nikkei 225 closed down 3.71% at 16,416.19 points.
The index had not seen a one-day drop as sharp since late September.
One of the biggest losers was Sony, which fell 8%. Softbank Group fell 7%.
Oil glut
The International Energy Agency said on Tuesday that with the return of Iranian oil, the market "could drown" in oversupply.
Prices of oil have fallen by more than 70% in the last 18 months.
In China, markets were also down after a positive day on Tuesday.
Markets in Hong Kong and on the mainland had welcomed China's latest growth numbers - which were in line with expectations.
The world's second-biggest economy grew by 6.9% in 2015, compared with 7.3% a year earlier, marking the country's slowest growth in a quarter of a century.
However, on Wednesday, Hong Kong's Hang Seng index closed down 3.8% at 18,886.30 points in afternoon trade, while the mainland's Shanghai Composite finished 1 percent lower at 2,976.69.
For the Hang Seng, the close marked the lowest level in over three years while the Hong Kong dollar fell to its weakest in more than eight years.
In Australia, the S&P/ASX 200 closed down 1.26% at 4,841.50, dragged lower by energy-related shares.
In South Korea, the benchmark Kospi index closed 2.34% down at 1,845.45 in line with the rest of the region.