FTSE 100 closes at three-year low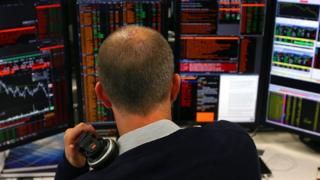 (Close) The FTSE 100 ended the day at its lowest level for more than three years on Monday.
It was down 24.18 points at 5,779.92, amid continuing concerns about the slowdown in China's growth.
Overnight, oil prices had fallen again on fears that the lifting of Western sanctions on Iran could worsen oversupply problems.
Brent crude fell as low as $27.67 a barrel, its lowest price since 2003, but then recovered somewhat.
The price of Brent stood at $28.70 at 17:00GMT.
The rebound lifted shares in oil and commodity-related stocks. Oil giant BP saw its shares rise by 2.35%. Mining company Glencore was up 2.24%.
"Oil prices have been calling the tune for global markets for weeks now, and it looks like this state of affairs will continue," said Chris Beauchamp, senior market analyst at IG.
In the FTSE 250, shares in oil and gas services company Amec Foster Wheeler rose 5% at one point, after the company said its chief executive, Samir Brikho, was stepping down. The shares ended the day up about 1%.
The company's chief financial officer, Ian McHoul, has been appointed as interim chief executive.
On the currency markets, the pound was up slightly against the dollar to $1.4270, and was up by 0.28% against the euro at €1.3104.
The FTSE 100 has fallen by more than 7% since the beginning of the year amid fears about China's economy and falling commodity prices.