Former Co-op Bank executives banned from senior financial roles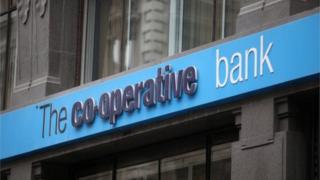 The Bank of England has banned two former Co-operative Bank executives from holding senior banking positions.
The BoE's Prudential Regulation Authority said former chief executive Barry Tootell had been banned for "breaches" in the running of the bank.
Keith Alderson, a former managing director of the Co-op Bank's corporate and business banking division, was also hit with a ban.
The Co-op Bank came close to collapse in 2013.
In addition to the bans, the PRA fined Mr Tootell £173,802 and Mr Alderson was fined £88,890.
The PRA said Mr Tootell "did not exercise due skill, care and diligence in carrying out his role as chief financial officer and later chief executive".
PRA chief executive Andrew Bailey said: "This action makes clear that there are serious consequences for senior individuals who fall short of the PRA's expectations."
Between July 2009 and May 2013 Mr Tootell "was centrally involved in a culture within the Co-op Bank which encouraged prioritising the short-term financial position of the firm at the cost of taking prudent and sustainable actions to secure the firm's longer-term capital position," the PRA added.
Mr Alderson "did not take reasonable steps to ensure that Co-op Bank adequately assessed risk arising across the Britannia Corporate Loan Book".
'Woeful'
Co-operative Bank merged with the Britannia building society in 2009. The deal was later held responsible for the near collapse of the bank.
In 2013, the bank revealed a £1.5bn black hole in its accounts.
Co-op Bank chairman Paul Flowers also stepped down over concerns about expenses in 2013, before pleading guilty to drug possession in 2014.
Simon Walker, director general of the Institute of Directors, said: "This is further proof that the leadership of the Co-operative Bank in the run up to its spectacular failure was woefully lacking in the skills, knowledge, and decision-making needed for a major financial institution."