Asia markets lower as oil prices fall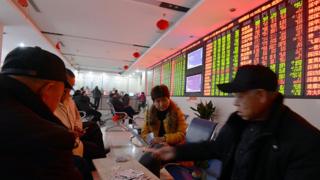 Asian shares reversed earlier gains to head lower as global economic worries and oil prices continued to weigh on markets and investor sentiment.
Chinese shares led the region's losses with the mainland's benchmark Shanghai Composite index closing down 3.55% at 2,900.97.
Hong Kong's Hang Seng index closed the trading day down 1.5% at 19,520.77.
A collapse in oil prices has spooked financial markets and heightened fears of a global slowdown.
The price of US crude oil fell almost 2% to $30.59 a barrel, while Brent crude was down more than 1% to $30.54.
Both benchmark oil contracts have fallen below $30 a barrel for the first time since the first half of 2004 this week.
Meanwhile in China, the impact of attempts by the central bank to stabilise the currency this week seemed to be fading as shares continued to fall.
"The Chinese equity markets have been more immune to muscular shows of state intervention," said Angus Nicholson, market strategist at trading firm IG.
Rest of Asia
Japan's Nikkei 225 index closed 0.5% lower at 17,147.11, and was down 3.1% for the week as a whole.
Shares in Sharp jumped by more than 14% after a local media report said Taiwan's Hon Hai Precision was set to invest $5.9bn (£4.1bn) in the struggling electronics maker.
Australia's S&P/ASX 200 index ended down 0.3% at 4,892.80. Shares in mining giant BHP Billiton rose 1.3% despite it announcing that it would book a $7.2bn write-down on the value of its US shale assets as oil prices continue to slump.
In South Korea, the benchmark Kospi index finished down 1.1% at 1,878.87, its lowest level for more than four months.