US shares rally on oil price bounce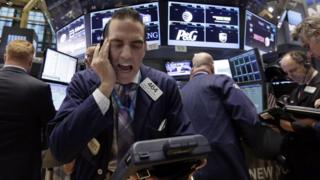 (Close): US shares recorded healthy gains in early trading, helped by a stabilisation in oil prices.
The Dow Industrials was up 0.72% at 16,516.22 and the S&P 500 was also 0.78% higher at 1,938.68. The Nasdaq rose 1% to 4,686, following eight consecutive losing sessions.
Technology shares were among the big winners, Apple was up 1.5%, Facebook was 1.9% higher and Google rose 1.6%.
Another slump in oil prices late in trade failed to put in much of a dent.
US WTI fell below $30 a barrel for the first time in 12 years before regaining some ground. It closed at $30.70 - a fall of more than 2% adding to Monday's 6% drop.
Exxon Mobil added 1.7% and Chevron was also up 1.7%. Elsewhere giant rivals BP and Brazil's Petrobras both announced they were shrinking their operations.