Oil price falls fail to dent US shares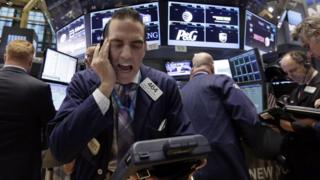 (Close): Oil prices lost 6% in Monday trading on new fears about China's economy but failed to dent overall US share values.
Brent crude lost more than 6% and US crude 5.5% to $31.43 and $31.34 respectively - 12 year lows.
The Dow Industrials ended up was up 0.32% at 16398.57, the S&P 500 was little changed at 1,922.03 and the Nasdaq was up 0.12% at 4637.99.
Chevron and ExxonMobil were among the biggest fallers.
As well as renewed volatility on Chinese markets - which closed down 5% on Monday - further fears over the direction of the Chinese currency also spooked investors.
Comments from the European Union on Monday that sanctions on Iran could be lifted soon caused many to fear that would cause further downward pressure on prices.
Department store chain Macy's was up 8% after activist investor Starboard Value sent a letter to the company reminding management of its plan to unlock value in its property assets in prime locations like New York and San Francisco. The company's share price has lost 43% over the past six months.
Hospital operators HCA Holdings was the biggest winner among S&P 500 shares, with a 5.5% jump after it raised its profit forecast.
"A relief rally would be expected at some point during the recent precipitous fall," said Andre Bakhos, managing director at Janlyn Capital.
Shares in aluminium producer Alcoa were 0.8% higher. It will mark the start of the US quarterly earnings season when it reports results after the close of trading on Monday.
Overall US corporate earnings are likely to have fallen in the fourth quarter by 4.2% according to data from Reuters. That would be the second quarter of decline, it said.
Sports clothing maker, Under Armour tumbled 7% after Morgan Stanley cut its rating of its shares to underweight.
Those shares have lost almost a third of their value since hitting a record last September.