FTSE hit by 'volatility' after China falls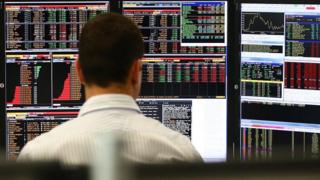 (Close): Trading in London was jittery on Monday, with mining firms especially volatile, after another day of sharp falls on China's stock market.
The FTSE 100 closed down 40.61 points or 0.69% at 5,871.83 after veering in and out of positive territory all day.
The FTSE 100 dropped more than 5% last week on fears over China's slowing economy and turbulent stock market.
That turbulence continued on Monday when the Shanghai Composite tumbled another 5.3%.
'Fragile'
Ipek Ozkardeskaya, a market analyst at London Capital, said trading in the FTSE's mining giants was particularly "volatile" on Monday.
Anglo American closed 0.6% higher after opening down 2.2%, but Glencore, Antofagasta and BHP Billiton were among the day's five biggest losers.
Gains in mining shares would remain "fragile" as long as the price of copper stayed below $2, Ms Ozkardeskaya told the BBC.
However, pharmaceutical giant Shire was the biggest faller on the 100-share index, tumbling 8.2% in afternoon trading as investors reacted to news that it was buying US rival Baxalta for $32bn.
'Weekend reflection'
Costa Coffee-owner Whitbread and software supplier Sage Group were the biggest gainers on the FTSE, rising 1.9% and 1.8% respectively. Their gains came after both were upgraded to a "buy" rating in notes by Bank of America Merrill Lynch.
Adam Laird, of Hargreaves Lansdown, said other UK shares might start to recover this week as investors reflect on last week's losses.
"Sometimes after a weekend it gives investors time to sit back and reassess what's happened. It can be a time to look at the fundamentals of the market they are in rather than the global outlook," he said.
Meanwhile, on the currency markets, the pound rose by 0.2% against the dollar to $1.4550 and by 0.5% against the euro to €1.3358.