Taylor Wimpey announce six-year high in house building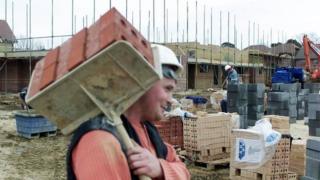 Taylor Wimpey said it is building more homes than at any other point in the last six years, with a rise of 7% in sales in 2015.
Britain's third biggest homebuilder said it built 13,341 homes last year.
Of those 2,509, or 19%, were classified as affordable homes.
Chancellor George Osborne gave house builders a boost in the Autumn statement by committing to the construction of 400,000 new homes in England before 2020.
Mr Osborne wants about half to be starter homes for first-time buyers.
The average price for a Taylor Wimpey house increased to £254,000 from £234,000 in 2014, a rise of 9%.
The company also said its profit margin was at a record 20%
There were improvements in the Spanish market, where Taylor Wimpey completed 251 homes in 2015 with an average sales price of £236,000.
In a trading statement ahead of its full year results, the firm said it was confident of achieving increased returns to its shareholders.
The house builder will announce its full year results on 1st March 2016.
Its share price rose 0.62% following the news.