Poundland shares slump 12% on disappointing Christmas sales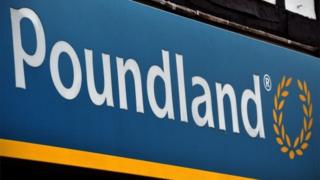 Poundland shares have slumped almost 12% after the discount retailer said annual profits would be at the lower end of expectations.
"High Street customer numbers were down year-on-year and this has impacted sales growth," chief executive Jim McCarthy said.
Investors focused on these comments, rather than the reported 30% sales growth for the 13 weeks to 27 December.
Shares in Poundland have now fallen more than 50% since February last year.
"We anticipated a pick-up in December because we had a very strong Christmas offer, and traditionally that's what we've seen," said Mr McCarthy.
"Whilst we did have an uplift in December, it wasn't the usual hike, and that was a function of depressed footfall.
"We weren't on our own, but that's cold comfort."
He did add, however, that he was "very encouraged" by the uplift in sales from 99p Stores, which Poundland bought last year.
The vast majority of 99p Stores would be converted to Poundland outlets by April, the retailer said. On top of this, the group added it was on course to open 70 new stores net in the UK and Ireland this year.