Has M&S lost its magic and sparkle? Your views on the store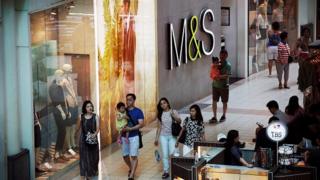 Marks and Spencer boss Mark Bolland is to step down as the store's chief executive.
His resignation comes after poor Christmas sales which the firm has blamed on "unseasonal conditions and availability".
But how has Marks and Spencer, which sold its first bra in 1926 and was one of the first to offer avocado pears to its customer in 1959, fared over the years?
You have been sharing your views on the retail giant.
---
Marks and Spencer's clothing range has prompted some debate:
Marks has some lovely short skirts designs - which is fine if you have the legs for them! It needs to update the designs and bring back longer length skirts for all ages, but especially the over 35-year-olds. Sarah Pearman, Reigate, Surrey
I'm a long time shopper at M&S. It is relatively expensive for both clothes and food. It's better for jumpers and coats. Food is relatively expensive but always good quality. Daniel Weinberg, London
---
Helen tapper thinks some products work and others don't. She tweeted:
---
Ruth Weedon isn't impressed with celebrity endorsements:
Celebrity launches just don't impress me, be they Twiggy or Alexa Chung. Why don't they ask people like me what we want? I can't be the only one? Ruth Weedon
---
And for other shoppers, M&S has become a bit confusing:
---
Ming Ho tweets that she too finds it hard to to navigate the layout in the stores:
But is far more impressed with other services from M&S and tweets:
---
I shop at M&S for food mainly. The food hall, in my opinion, is what makes M&S stand out from other retailers. You can trust the food, the food labelling is very good in terms of helping a consumer pick high animal welfare products.
The products are labelled with lots of detail regarding where the ingredients come from. The eggs are free-range. The food and the labelling are better than other retailers. Matthew Hepburn, Arlesey
---
Jay tweeted that he was impressed with their beer selection:
Compiled by Alison Daye