US shares end lower as oil prices drop again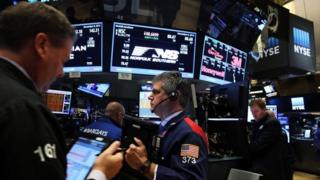 (Close): Wall Street closed the day down after oil prices slipped on forecasts of a return to milder weather in US and Europe.
The Dow Jones index was lower 117.11 points at 17,603.87.
The wider S&P 500 was down 15 points at 2,063.36, while the tech-heavy Nasdaq lost 6.33 to 5,065.85 points.
Both Brent and US light crude were down, after an unexpected increase in the amount of US stockpiles extended anxiety over a world-wide glut.
Brent crude oil was 3.5% lower at $36.46 a barrel and West Texas Intermediate oil dropped 3.4% to $36.60 a barrel.
Shares in Chevron and ExxonMobil were both 1% lower in response.
Pep Boys auto parts was also down after a bidding war for the company ended with the activist investor Carl Icahn agreeing to pay $1bn.
His offer beat competing bids from the Japanese firm Bridgestone.
Shares of Pep Boys fell 3%.