Deutsche Bank sells Hua Xia stake for $4bn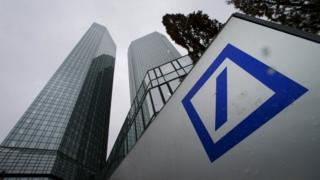 Deutsche Bank has agreed a deal to sell its 20% stake in China's Hua Xia Bank for up to 25.7bn yuan ($4bn).
State-owned Chinese insurer PICC Property and Casualty Company is buying the shares.
Deutsche announced earlier this year it would sell the stake as part of a plan to bolster its finances.
"As we execute on Deutsche Bank's strategic agenda, now is the right time for us to sell this investment," said chief executive John Cryan.
In October, the bank said it would be cutting 15,000 jobs and selling various businesses as it looked to stem losses.
Deutsche posted a €6bn (£4.4bn) loss for the third quarter.