Energy stocks buoy Wall Street for third day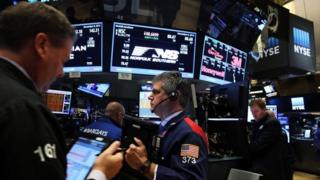 (Close): Wall Street stocks closed higher for the third straight day as oil prices continued to rebound, giving the market confidence.
The Dow Jones industrial average gained 185.34 points, or 1.1%, to 17,602.61.
The S&P 500 index rose 25.32 points, or 1.2%, to 2,064.29 while the tech-heavy Nasdaq climbed 44.82 points, or 0.9%, to 5,045.93.
Energy stocks had some of the biggest gains as oil climbed back up from lows earlier in the week.
Shares in the major US oil firms closed higher, with Chevron up 3.92% and Exxon 3.27% higher.
The price of US crude rose $1.36 to $37.50 a barrel, hile the price of Brent crude rose $1.25 to $37.36 a barrel.
"The market lately has been ruled pretty clearly by oil in particular, and more broadly, commodity prices. Now we seem to have some stability in oil, copper and other metals that's helping the market," said Scott Wren, senior global equity strategist at the Wells Fargo Investment Institute.
Analysts are looking for a "Santa Clause rally" that typically boosts markets in the period between Christmas and New Years.
Nike was one of the day's biggest losers, falling 2.4% despite reporting a 20% increase in earnings for its second financial quarter.
On the macro front, figures showed a pick-up in consumer spending for November. The Commerce Department said shoppers spent 0.3% more in November compared with the previous month. A separate report by the University of Michigan showed consumer sentiment at a five month high.