Tokyo's shares dragged down by Toshiba for second day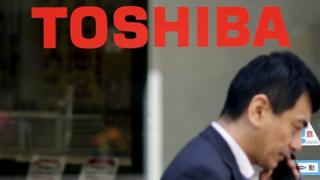 Japan's benchmark index was weighed down for a second day on Tuesday by electronics giant Toshiba.
Shares in the firm closed down 12.3% after sinking 10% on Monday ahead of an expected announcement about job cuts.
Late on Monday, Toshiba confirmed it would cut 6,800 jobs at its consumer electronics division together with some jobs from other sectors.
It also said it would report a record annual loss of 550bn yen ($4.53bn), which was worse than expected.
Japan's Nikkei 225 index closed down 0.16% at 18,886.70.
The continued fall in oil prices also weighed on sentiment, with crude prices touching 11-year lows on Monday.
Brent crude fell to $36.05 a barrel - its weakest since July 2004 - before recovering slightly.
Oil prices have fallen sharply since last year, when they reached $115 per barrel, because of global oversupply on the market.
One bright spot in the commodities and energy sector was the price of iron ore, which rose to $40.46 a tonne. The commodity is Australia's biggest export.
Sydney's benchmark S&P/ASX 200 index closed up 0.15% at 5,116.70.
In China, the Shanghai Composite ended the day 0.26% higher at 3,651.77, while Hong Kong's Hang Seng rose 0.2% to 21,830.02.
South Korea's benchmark Kospi index closed up 0.57% at 1,992.56.