Wall Street higher on strong healthcare data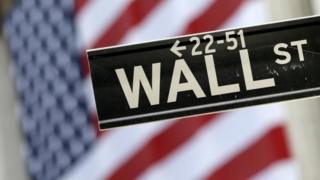 (Close): US stocks ended Monday higher after a volatile day spurred by record low oil prices, but strong performances by healthcare stocks.
The Dow Jones rose 123.07 points to 17,251.62.
The S&P 500 index was 5.60 points higher at to 2,021.15, while the tech-focused Nasdaq index climbed 45.84 to 4,968.92.
Oil prices fell to an 11-year low on Monday, as the global oversupply continued.
The price of Brent crude fell to $36.16 and the price of West Texas crude dropped to $35.74.
Shares of hospital companies rose after it was announced that six million Americans had signed up for subsidised health insurance, also known as Obamacare.
Shares of Universal Health Services were up 3.4% and Tenet Healthcare gained 9.5% on the news.
However, shares in the fast-food chain Chipotle fell 3.5% after the Centres for Disease Control and Prevention announced it was investigating new cases of E. coli at its restaurants in three states.
Despite Disney's reign at the box office over the weekend - breaking records with the opening of its latest Star Wars film- its shares were down 1.5%.
Star Wars: The Force Awakens set a record for the biggest global box office debut weekend with ticket sales of $529m (£335.4m).