Wall Street falls as oil sell-off continues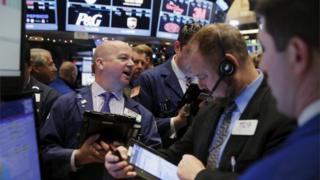 (Close): US stocks closed lower after a volatile week as sell-offs in commodity markets showed no signs of easing and oil prices reached new multi-year lows.
The Dow Jones fell 368.92 points, or 2%, to 17.126.92.
The wider S&P 500 index dipped 36.46 or 1.79% to 2,005.43, while the Nasdaq index lost 79.47 or 1.59% to 5,923.08.
Crude oil prices fell to new lows after the US announced it would lift a 40-year ban on crude oil exports.
Exxon shares were down 0.87% , while shares of Chevron lost 0.81%.
The price of Brent crude dipped to $36.66 a barrel, while West Texas crude slid to $35.87.
Wednesday's decision by the Federal Reserve to raise interest rates for the first time in nearly a decade, spurred some of the week's volatility.
Gold futures dipped by 10.6% as investors move back to the dollar.
On the Nasdaq, shares in Blackberry rose by more than 10% after it reported a smaller-than-expected third quarter loss and its first quarter to quarter revenue gain in more than two years.