ONS: Large disparity between rich and poor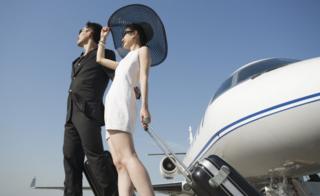 The richest households in Britain are getting rich quickly, while the wealth of the poorest is growing much more slowly, figures show.
In the two years to June 2014, the wealthiest 10% of households got 21% richer than in the preceding two years, according to the Office for National Statistics (ONS).
However, the wealth of the poorest households increased by just 7% over the same period.
Those in the middle got 17% richer.
The ONS noted that "the disparity in the change was large".
The total wealth of all households in Britain was £11.1 trillion, according to the ONS Wealth and Assets Survey.
That was a rise of 18% on the previous two-year period.
The main reason for the increase was the rise in private pension wealth, not the rise in property values, the ONS said.
On average, the amount of household wealth represented by property actually fell from 37% to 35% over the period.
Private pension wealth increased from 37% of assets to 40%.
Those at the bottom end of the wealth scale appear to have benefited the least from rising property prices.
They have seen a smaller proportion of their assets accounted for by property every year since 2006.
Those who are in the bottom 50% have much more of their wealth in physical assets, such as cars or household goods.