Fed announcement drives US stocks up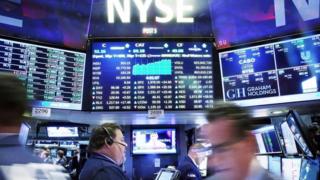 (Close): Wall Street closed higher on Wednesday following a much expected announcement by the Federal Reserve that it was raising interest rates.
The Dow Jones industrial average climbed 224.18 points to 17,749.09.
The wider S&P 500 index rose 29.66 points to 2,073.07, while the Nasdaq index added 75.77 points to 5,071.13.
The Fed announced - for first time in nearly a decade - it would lift interest rates, but only by 25 basis points.
The US central bank insisted it will raise interest rates slowly. Fed chair Janet Yellen said the bank expected the economy to continue to perform well.
"The Fed is going out of its way to assure markets that, by embarking on a 'gradual' path, this will not be your traditional interest rate cycle," said Mohamed El-Erian, chief economic advisor at Allianz.
The big winners for the day were stocks that pay big dividends and banks.
Goldman Sachs shares rose 2.3% and shares of JP Morgan Chase gained 2.2%.
Oil prices did not fare as well. Brent Crude, fell 3.3% to $37.19 a barrel while West Texas Crude fell 4.4% to $35.69 a barrel. The price of oil had been recovering over the last two days after dropping to near record lows on Monday.