FTSE 100 makes gains for second day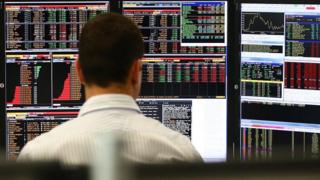 (Close): London's top shares continued their renewed rise in Wednesday trading, the day after the benchmark index rose back above 6,000.
The FTSE 100 rose 43.4 points to close at 6061.19, ahead of the decision by the US central bank on interest rates.
Bigger included Dixons Carphone, which added 1.8% on the strength of a 23% rise in first-half profit.
It said it had its biggest single day's trade on Black Friday, 27 November, helping profits to £121m.
The FTSE 100's recovery comes after it touched three-year lows on Monday. Other companies contributing to the rise included drugmaker Shire, up 4%, publisher Pearson, up 5%, and miner BHP Billiton, adding 2.3%.
Tuesday's rise was underpinned by a surge in supermarket shares, but that turned out to be short-lived, with Tesco down 1%.
At the same time, Sainsbury's was 0.4% lower and Marks and Spencer was down 0.5%.
On the currency markets, the pound fell 0.19% against the dollar to $1.5011 and was 0.17% down against the euro at €1.3738.