Weak Asian sales hit Prada profits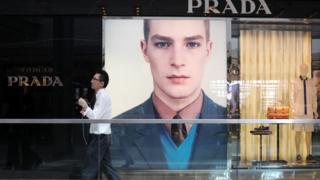 Weak sales in Asia have sent profits at Prada tumbling.
The Italian luxury goods company said net profit for the nine months to October fell 26.4% to €235m (£156m).
The figure compared with €319m for the same period last year and came despite a 1.2% rise in sales.
Quarterly profit fell by an even steeper 38%.
Prada chief executive Patrizio Bertelli said the company would cut costs.
A weaker Chinese yuan following the devaluation of the currency earlier this year discouraged purchases by mainland Chinese tourists in Hong Kong in the three months to October, the company said.
Europe and Japan were the only two regions to post modest growth, thanks to tourists, while a strong dollar held back travellers headed to the United States.
'Quite complicated'
Sales fell 6% for the three months to October to €748m (£542m), and were down 10% when currency movements were stripped out, with a 26% decline in Greater China.
"Market conditions are still quite complicated," chief financial officer Donatello Galli told an analyst call, pointing to unstable financial markets and concerns about global security that dented tourism numbers.
Mr Bertelli said the company was considering ways to rekindle consumer demand for its products.
Prada also plans to reduce price differences between different regions to discourage tourists from travelling to countries where some items are cheaper.
Brian Buchwald, of consumer intelligence company Bomoda, said that Prada "needs to carefully assess how they're marketing and attracting the global Chinese consumer ... if they want to see a meaningful and durable uptick in sales in the future".
Prada's Hong Kong-listed shares rose 0.2% on Tuesday but have fallen nearly 40% this year, compared with a 9.9% slide in the Hang Seng index.