US stocks rise as oil prices recover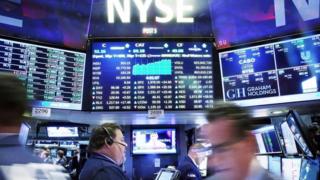 (Close): Wall Street closed higher on Tuesday as oil prices rebounded ahead of the expected rate rise from the Federal Reserve.
The Dow Jones Industrial Average finished up 56.4 points at 17,524.9.
The wider S&P 500 index added 21.4 to 2,043.4, while the Nasdaq index climbed 43.1 to 4,995.3.
Oil prices steadied after several days of falls. Brent crude rose 1% to $38.33 a barrel, while US crude also rose 2% to $37.13.
The increases boosted shares in the big US oil companies. Exxon Mobil was up 4.5% to $79.43 while Chevron was 3.8% higher at $92.79.
The Federal Reserve began a two-day policy meeting on Tuesday. Most analysts expect the US central bank to announce a rise in interest rates when it issues its statement on Wednesday.
US rates have been held at near-zero since the global financial crisis struck.
Sam Stovall, chief investment strategist at S&P Capital IQ, said the Fed's decision would "lift the veil of uncertainty" hanging over the markets.
Figures released on Tuesday showed that underlying US inflation picked up in November, strengthening the case for a rate rise.
Core CPI inflation - which excludes food and energy prices - for the 12 months to November was 2%, up from 1.9% in October and the strongest figure since May 2014.
Not everyone was a winner though. Shares of Apple fell 1.8% after Credit Suisse predicted sales of iPhones would be "subdued" over the next several quarters.
Shares in oil services company Baker Hughes fell after the company pushed back the date of its proposed merger with Halliburton following objections from some regulators.
Baker Hughes fell 0.6%, while shares in Halliburton rose 1.5%.