Alibaba to pay $266m for HK's South China Morning Post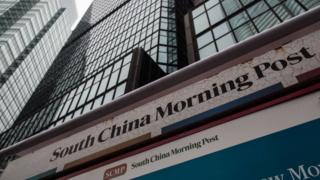 Chinese internet giant Alibaba will pay HK$2.06bn ($266m; £175m) for Hong Kong newspaper South China Morning Post.
The newspaper group revealed the sale price in a statement filed to the Hong Kong stock exchange. The deal was announced on Friday.
Besides the English-language newspaper, Alibaba will also own sister publications, websites, and magazines.
The acquisition has raised questions due to the close links Alibaba founder Jack Ma has with Beijing.
What do employees at SCMP think of the deal?
Alibaba has promised that the paper would have editorial independence, and said it could leverage on its technology expertise to develop the paper.
The newspaper group said it will gain about HK$1.4m from the sale, "a very substantial proportion" of which would be disbursed in a special cash dividend.
The paper was founded in 1903 but profits and sales have been hit in recent years by the same declines as newspapers in many countries.