Japan's stocks hurt by stronger yen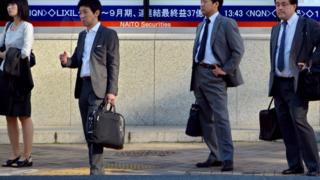 Japan's benchmark Nikkei index fell after stocks on Wall Street closed lower and shares in major exporters were hurt by a stronger yen.
The Nikkei 225 ended down 1.3% at 19,046.55, with the yen hitting one-month highs against the dollar.
A stronger yen hurts Japan's big exporters as it makes their products more expensive to buy overseas.
Among the main carmakers, Honda fell 2.3%, Nissan dropped 1.1% while Toyota was down 0.7%.
Australia's stock market also closed down despite positive job numbers.
The country's jobless rate came in at 5.8% in November - down from 5.9% the month before and the lowest reading since early last year.
The Australian Bureau of Statistics also said 71,400 new jobs were created in the month, which was much better than expected. The Australian dollar rose more than 1% against the US dollar on the news.
However, Sydney's S&P/ASX 200 index closed 0.8% lower at 5,037.7 after being dragged down by the so-called big four banks, which make up some 30% of Australia's stock market. Among the big four, Westpac shed 2%, while Commonwealth Bank fell 1.7%.
Commodity prices weigh
In China, the Shanghai Composite index ended lower by 0.5% to 3,455.50, while Hong Kong's Hang Seng fell by the same amount to 21,704.61.
Resources shares continued to pull the markets lower as investors remained wary of falling commodity prices.
The one bright spot in the region was South Korea's benchmark Kospi index, which closed up 0.2% at 1,952.07.
On Thursday, the country's central bank kept its benchmark lending rate at 1.5%.