Shares of Entertainment One, owner of Peppa Pig sink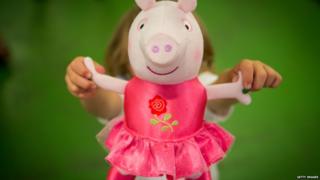 Shares of Entertainment One, owner of Peppa Pig, fell by 20% after the company announced its refinancing plan will raise monthly interest payments.
Entertainment One said it will issue £285m in bonds and use the proceeds to repay its existing loans and expenses.
The company will pay a 6.875% interest rate on its new debt compared with its current 4.3%.
After the announcement on Tuesday, analysts cut their earning expectations for the company by 9%.
Shares of Entertainment One fell 20%, their lowest level since 2012.
The film and TV distribution company's lack of cash flow has raised its cost of borrowing.
The entertainment company has embarked on a strategy of buying distribution rights for popular TV shows and films including Peppa Pig.
The approach has been costly because the investments are made months before a profit will be seen, but the company expects to see strong returns after box-office, TV and product releases.