US shares fall as oil prices sink again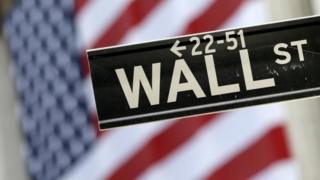 (Close): Wall Street ended the day about 1% down on worries about the falling oil price and the Chinese economy.
The Dow Jones index was down 162 points at 17,568 at the end of trading.
The price of US crude oil - West Texas Intermediate - fell a further 1.8% earlier today to below $37 a barrel, but later recovered to $37.62.
That made energy giants Chevron and Exxon Mobil two of the biggest losers, with Chevron down 1%, and Exxon 2.8%.
The wider S&P 500 lost 13.48 points, or 0.65%, to 2,077.07, while the tech-heavy Nasdaq was 3.57 points lower at 5,098.24.
Stocks were also affected by a 6.8% fall in China's exports in November and an 8.7% fall in imports, although there was some relief that the import figure was not as bad as last months 16% fall.
Chipmaker Qualcomm fell 5.7% as EU regulators accused it of using its market position to dominate the competition and threatened a hefty fine.
However, rival Fairchild Semiconductor jumped 5.6% after it said it received an unsolicited proposal to buy the company for about $2.5bn.
Meanwhile Chipotle Mexican Grill shares continued their slide, dropping 1.7% to $542.24 following an incident when 80 Boston College students were violently ill after eating at a Chipotle outlet.
The chain's shares fell more than 12% last month after US health authorities reported more cases of E. coli linked to the Mexican restaurant chain.