FTSE 100 dragged 1.4% lower by mining firms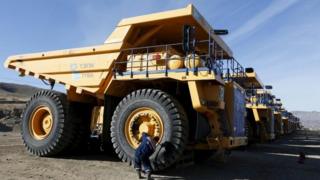 (Close): Mining firms pulled the main UK share index lower following more disappointing news for the sector.
The FTSE 100 closed down almost 90 points, or 1.4%, at 6,135.2, with Anglo American shedding 12.3% after it unveiled a major restructuring.
The mining sector has suffered all year as commodity prices have fallen over worries about a slowdown in China.
Latest trade figures showed that China's imports fell by 8.7% in November from a year earlier.
Anglo American shares dived 45.3p to 323.6p after it said it would cut its workforce by 85,000, reduce the number of its divisions from six to three and suspend the payment of dividends until the end of next year.
Other mining shares were also lower, with Rio Tinto 8.1% lower, Glencore down 6.5% and BHP Billiton falling 5.1%.
Alastair McCaig, market analyst at IG, said: "Anglo American, like all of its counterparties in the mining sector, has found there is no more fat to be cut and, as had been speculated for the last week, it had to face the reality that it could no longer pay out the dividend."
"Where one goes, others will follow and the possibility that BHP Billiton or Rio Tinto might be forced into similar action now looks increasingly likely."
Supermarket shares had a better day following some upbeat comments from brokers, with Sainsbury's the biggest riser on the FTSE 100, adding 1.5%.
However, Tesco and Morrisons both closed lower after earlier rising about 2% respectively.
On the currency markets, the pound fell 0.37% against the dollar to $1.5000, and dropped 0.7% against the euro to €1.37980.