Council parking profits 'hit record £700m'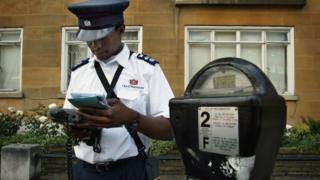 English councils made a record £693m profit from parking charges and penalty notices in 2014/15, according to the RAC Foundation, which is a 4% rise.
The motoring research charity urged councils to reveal where this money would be spent.
The figures represent income from day-to-day, on and off-street parking charges, minus running costs.
However, the Local Government Association (LGA) dismissed the report as "wholly inaccurate and misleading".
Almost half the money - £308m - was generated by councils in London, with more affluent areas collecting the most.
Westminster led the way with £46.4m, followed by Kensington and Chelsea with £33m and Camden with £24.5m.
Brighton and Hove (£18.6m) and Nottingham City (£13.3m) were the only two local authorities outside London in the top 10.
The RAC Foundation said the increase in profits came from a rise in parking charge income rather than a reduction in running costs.
'Essential projects'
"The financial sums involved in local authority parking are huge and the overall profits eye-watering," said Steve Gooding, director of the charity.
"The legal position is that parking charges are to be used as a tool for managing traffic. But with local government budgets under ever-greater pressure, the temptation to see them as a fund raiser must be intense."
But the LGA rejected the idea that local authorities make a profit from parking charges.
"The reality is income is spent on running parking services and any surplus is only spent on essential transport projects, such as tackling the £12bn roads repair backlog and creating new parking spaces.
"Councils are on the side of hard-pressed motorists.
"The average motorist is paying 30 times more to Whitehall in charges and taxation each year than they do to their town hall through parking."