UK foreign investment at lowest for a decade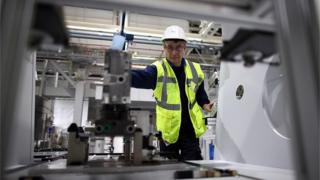 UK firms cut their foreign investment by the largest amount in a decade last year, official figures have shown.
British firms clawed back a net £79.9bn worth of overseas investments in 2014.
That compared with a £28.4bn incresase in overseas investments by UK firms a year earlier. Foreign firms also scaled back their investments in the UK.
It is the first time UK companies have reduced net foreign direct investment in more than a decade, the Office for National Statistics (ONS) said.
Overall, the amount of money invested overseas by UK companies fell to £1.15trn in 2014 from £1.25trn in 2013.
Foreign companies cut their direct investment into the UK to £27.8bn in 2014 from £33bn in 2013.
The figures come after state visits to the UK by the leaders of two of the fastest-growing economies in the world - Chinese President Hu Jintao and Indian Prime Minister Narendra Modi - during which a number of trade deals were announced.
The Institute of Directors (IoD) warned that the figures showed the UK could no longer rely on its investments abroad to compensate for "weak export performance", given the falling global demand.
Chinese woes
Commodity prices have fallen sharply in the last year amid fears that the Chinese economy, the world's second-largest, is slowing down too rapidly. This slowdown has reduced demand for metals and oil and contributed to deflation in the UK and the eurozone.
Allie Renison, head of trade policy at the IoD, said some UK manufacturing firms were already selling off assets and facilities abroad and bringing production back to the UK.
She added: "We also shouldn't forget that the UK is still the leading destination in Europe for inward investment."
The figures come as activity in the UK's dominant services sector was shown to have jumped to a four-month high in November.
The closely watched Markit/CIPS Purchasing Managers' Index (PMI) survey for the services sector showed a reading of 55.9 in the month - the fastest rate of growth since July and an improvement on October's figure of 54.9. Any figure of above 50 indicates growth.
New business orders also rose to a four-month high, with new contracts linked to new product launches and acquisitions.
Companies also reported coming under salary pressures, linked to the government's introduction of the National Living Wage next April.
And business sentiment was little changed from October's two-and-a-half-year low.
The stronger services sector growth contrasted with earlier surveys, which showed manufacturing activity easing and expansion in the construction sector falling to a seven-month low.