AB InBev mulls Peroni and Grolsch sale in beer merger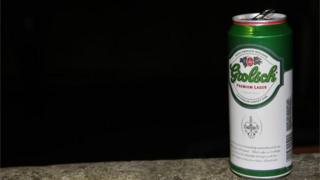 Beer brands including Peroni and Grolsch, and London's Meantime brewery, could be sold to satisfy competition concerns about Anheuser-Busch InBev's planned £71bn takeover of SABMiller.
The brands and brewery are owned by SAB, which last month agreed terms for what is the UK's biggest takeover.
AB InBev said in a statement that it would be contacting potential buyers.
Regulators have not ordered sales, but AB InBev said it wanted to "proactively address potential" regulatory issues.
The move comes after the sale of SABMiller's share in its US joint venture last month, with partner Molson Coors agreeing to buy the remaining 58% stake in MillerCoors for $12bn (£7.9bn).
AB InBev is seeking regulatory approval for what is the largest takeover of a UK-based firm as well as the fourth biggest in global corporate history.
The deal brings together some of the most famous names in brewing. AB InBev owns Budweiser, Corona and Stella Artois.
Craft beer
Alan Clark, chief executive of SABMiller, said in a statement: "Under SABMiller's stewardship, Peroni and Grolsch have become world-renowned premium beer brands.
"Meantime has been a welcome addition to SABMiller and has a growing and loyal fan base.
"These beers are loved by consumers and we are very proud of them. Until the change of control we will continue to invest in growing these great beers and supporting our talented people who brew, sell and manage them."
A sale of Meantime would bring to a close a brief spell under SAB's ownership for the brewery, which was only bought by the group in May.
SAB, which was founded in South Africa, snapped it up under plans to tap into the burgeoning UK craft beer market. Meantime was founded 15 years ago by brewer Alastair Hook and its most popular brews include London Lager, London Pale Ale and London Porter.
AB InBev's expects the takeover of SAB to go through in the second half of 2016, assuming it gets clearance from regulators and shareholders.