China shares rise despite disappointing factory data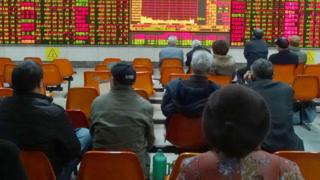 Disappointing manufacturing data from the world's second largest economy, China, did little to rattle investors in the mainland market.
The official purchasing managers' index (PMI) fell below forecasts to 49.6 in November, down from the previous month's reading of 49.8.
That marks the fourth month of shrinking factory activity in the vast sector.
But, the Shanghai Composite reversed losses to close up 0.32% at 3,456.31.
A reading below the 50-mark on the PMI survey indicates contraction in the sector, while one above suggests growth.
The Asian giant is heading for its slowest growth in a quarter of a century this year, as the government tries to transition China from an export-driven economy to a consumption-based one.
Hong Kong's Hang Seng index closed up 1.75% at 22,381.35.
Investors reacted positively to news overnight that the International Monetary Fund (IMF) would include China's currency, the yuan, in the fund's basket of reserve currencies.
The IMF said the yuan "met all existing criteria'' and should become part of the basket in October 2016.
Nikkei climbs above 20,000
Japan's benchmark Nikkei 225 index closed up 1.3% to 20,012.40 - breaching the key psychological level of 20,000 for the first time in over three months.
The index has not rallied to that point since 20 August and analysts said positive investment data from Japanese companies provided the boost.
Capital sending rose a better-than-expected 11.2% in the third quarter, when the country fell into a recession.
In Australia, the S&P/ASX 200 index closed up 1.9% to 5,266.10 - leading gains in the region.
Sentiment was boosted after the Reserve Bank of Australia was upbeat about the economy and kept interest rates unchanged at a record low of 2%, as widely expected.
South Korea's benchmark Kospi index ended up 1.6% to 2,023.93
Shares gained on a steady recovery in consumption that led the country's annual inflation in November to jump to its highest in a year - an annual rate of 1%.