US stocks braced for week of economic data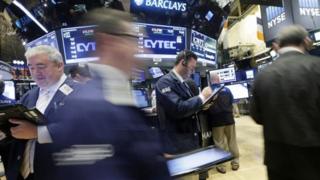 (Open): Shares on Wall Street opened broadly flat ahead of a week that will feature a number of key economic announcements.
The week will end with the monthly jobs report, the non-farm payrolls.
Before that there will be manufacturing and car sales data for November.
The Dow Jones Industrial Average fell 10.72 points to 17,787.77. The wider S&P 500 index fell 0.84 to 2,089.27 but the Nasdaq index rose 6.63 to 5,134.15.
Also mid-week Federal Reserve chief Janet Yellen testifies to Congress ahead of next week's meeting of the Fed Board which may decide to raise rates for the first time since 2006.
Microsoft's gained 1.3% after a broker upgrade.
Amazon was up 1%.