Bank jobs could fall by 50% in 10 years says ex-Barclays boss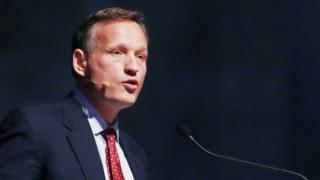 Half of banking jobs and branches could be scrapped in the next 10 years as smaller start-up firms take on traditional lenders, according to a former bank chief executive.
Big lenders will struggle to keep up with technological change, former Barclays boss Antony Jenkins said.
For Barclays that would mean the loss of 66,000 jobs globally and 700 UK branches.
Mr Jenkins added that high pay for bankers was coming to an end.
"The number of branches and people employed in the financial services sector may decline by as much as 50% over the next 10 years, and even in a less harsh scenario I predict they will decline by at least 20%," Mr Jenkins said in a speech.
'Unstoppable force'
Mr Jenkins was implementing a cost-cutting drive at Barclays, involving the loss of thousands of jobs, when he was fired in the summer.
He described finance as getting close to an "Uber moment", referring to the taxi firm which is causing disruption among traditional private hire firms.
Technology was "an unstoppable force", he said in the speech.
A large amount of capital is being invested in the new firms, he said, and they could soon become household names among their customers.
What is stopping the very fast changes seen in industries such as taxi hire are regulation and other hurdles, which limit new entrants into finance.
---
Analysis: BBC Today presenter Simon Jack
So far finance hasn't had much tech, Mr Jenkins said in his speech. We are at "fintech 1.0" and we are about to hit "fintech 2.0", he said. Because of the drop in staff numbers, the challenge will be to find new ways of employing people displaced plus replacing revenue, he added.
When asked (by me) whether he was "too nice" to run a bank, he said none of his colleagues had ever described him as too nice. But, he thinks he did move the needle on values and ethics and stuck to his position that the bank's reputational issues are the work of the few not the many.
---
High pay over?
"The barriers to entry are quite high in financial services, so that will allow the incumbents to probably last longer than in many other industries."
"The risk is that incumbents will be pushed into this utility, capital-heavy role that we've seen in other industries like telecoms. Ultimately, that will become intolerable to shareholders, so we could see consolidation and mergers," he said.
The days of high pay in banking may also be numbered, he said.
"If banks want to really compete for talent successfully, they are going to have to make themselves interesting places to work. It can't just be about the money, because frankly the money isn't going to be there the way it was before 2008."