Asia's markets down on tension over Russian warplane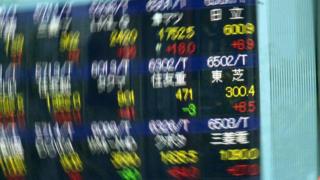 Asian markets were largely lower on Wednesday amid international tension over the downing of a Russian warplane by Turkey.
Japan's benchmark Nikkei 225 index closed down 0.39% at 19,847.58.
Shares in Japanese exporters fell as the yen strengthened slightly against the dollar. The yen is viewed as a haven currency in times of uncertainty.
The dollar was buying 122.32 yen, compared with 122.45 yen in New York on Tuesday.
Shares in electronics giant Sony closed down 1.9%, carmaker Toyota dropped 0.5% and Honda fell 1%.
A stronger yen against the dollar can hinder Japan's exporters as it makes their products more expensive to buy overseas.
Rest of Asia
Elsewhere, Hong Kong's Hang Seng index finished down 0.4% at 22,498, while the Shanghai Composite index was the only bright spot in the region, closing up 0.9% at 3,647.93.
Shares of China's largest brokerage, Citic Securities, lost 0.7% after the country's securities association said the company had overstated its derivative business by $166bn (£110bn) from April to September.
In Australia, the S&P/ASX 200 ended down 0.63% at 5,193.7.
Mining shares fell again after the price of iron ore - the key ingredient for making steel, and Australia's biggest export commodity - hit a fresh 10-year low overnight, closing at $43.89 a tonne.
BHP Billiton's Sydney-listed shares closed down 0.2%, Rio Tinto fell 0.6% and Fortescue Metals ended the day down 1.4%.
South Korea's Kospi index closed down 0.34% at 2,009.42.