Wall Street markets edge lower on lacklustre trading day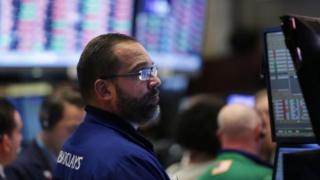 (Close): Wall Street's main markets edged lower, with rises in technology stocks offset by falls in healthcare shares.
US shares jumped on Wednesday after hints from the Federal Reserve that interest rates could rise in December.
But on Thursday, the Dow Jones eased 0.02% to 17,732.75 points, while the S&P 500 lost 0.11% to 2,081.24. The Nasdaq shed 0.03% to 5,073.64.
Intel led the Dow's risers, up 3.44% after announcing a dividend hike.
The S&P healthcare sector was the worst performer among the 10 major sector on the index with a 1.63% fall. Drugmaker Pfizer fell 3.06% after reports that its talks to buy Allergan and re-domicile in Ireland were in final stages. Allergan lost 2.82%.
Electronics retailer Best Buy dropped 2.11% after its third-quarter revenues fell below analysts' expectations.
Revenues fell 2.4% to $8.82bn, although profits rose 16.8% to $125m.