UK inflation rate remains negative in October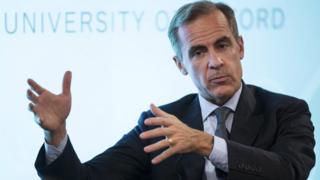 The UK's inflation rate as measured by the Consumer Prices Index remained at -0.1% in October, the Office for National Statistics has said.
The news will further dampen expectations of a rise in interest rates any time soon.
The Bank of England said earlier this month that the global economy was weakening, depressing inflation risks.
Following this report, many economists forecast that rates would not rise until well into next year.
The ONS added that the Retail Prices Index, a separate measure that includes housing costs, fell to 0.7% in October from 0.8% in September. This is the lowest RPI rate since November 2009.
October marked the first time the Consumer Prices Index has fallen on an annual basis for two months in a row since the index was created in 1997. The price of clothing rose last month, but this was offset by a fall in food, alcohol and tobacco.
The ONS said fuel prices fell by 14% on an annual basis, while food and drink prices fell by 2.7% in October and energy costs were 4.1% lower.
"This is now the ninth month running that CPI has been at or very close to zero," ONS statistician Richard Campbell said.
In its latest quarterly Inflation Report, released earlier this month, the Bank said that inflation was unlikely to rise to 1% until the second half of next year, while it would be two years before it reached its 2% target.
An ONS measure of core consumer price inflation, which strips out changes in the price of energy, food, alcohol and tobacco, rose to 1.1%, compared with economists' expectations for it to hold at 1%.
Economists said negative inflation would give a short-term boost to the economy.
Chris Williamson, chief economist at Markit, said: "The benefit of ongoing low inflation is not only that interest rates will stay lower for longer but that real wage growth remains robust, which will in turn continue to boost consumer spending power and help sustain the economic upturn.
"The deflationary picture supports the Bank of England's dovish outlook, which envisages interest rates staying on hold until 2017. However, this outlook is dependent on oil prices and wage pressures remaining low, both of which remain something of an unknown."
Andrew Sentance, senior economic adviser at consultants PwC, said the latest ONS data did not point to "a more generalised deflation". As fuel price falls drop out of the annual calculation over the next few months, he expected the inflation rate to move up to "about 1% or higher".
He added: "Meanwhile, consumers continue to benefit from the combination of stronger wage increases and very slightly falling prices. The resulting increase in real wages and household disposable incomes should continue to be supportive of consumer spending and economic growth over the year ahead."
The ONS also released figures for house price inflation, which showed an 6.1% annual rise across the UK as a whole in September, compared with 5.5% in August.
---
Analysis: Anthony Reuben, BBC business reporter
The ONS says: "Upward price pressures for clothing and footwear and a range of recreational goods were offset by downward price pressures for university tuition fees, food, alcohol and tobacco, resulting in no change to the overall rate of inflation."
Students may be surprised to hear that tuition fees pushed inflation down. It turns out that it's because of the comparison with 2014 and the effect of the higher fees introduced for new students in England in 2012.
So, two years ago, third year students were still paying the capped rates. Last year, third year students will have started paying higher rates, which will have raised inflation more than the change this year, when the only group of students paying more than their counterparts last year will be fourth year undergraduates, and there are not as many of those.
So, when they say "downward pressure", they don't mean dropping prices, they mean prices rising at a slower rate than last year.
---