Paris attacks: Defiant French businesses carrying on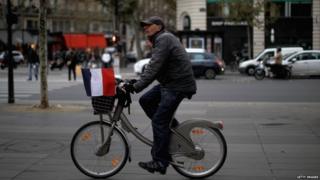 Shops and businesses in Paris have been trying to return to normal in a city still mourning the death of 129 people killed in terror attacks on Friday.
People in France and across Europe observed a one-minute silence at midday local time (11:00 GMT).
France's stock market closed in negative territory, with the Cac 40 share index down 0.08%.
Tourist attractions such as the Louvre and the Eiffel Tower have reopened.
They closed over the weekend because of concerns about security.
As evening fell, the Eiffel Tower was due to be lit up in the colours of the French flag, along with a projection of the city's defiant motto - "tossed but not sunk."
In recent days, monuments around the world have been lit in the colours of the tricolour, in a show of sympathy with Paris.
French Culture Minister Fleur Pellerin said that although France had suffered a tragic event, "culture is more than ever this symbolic place of self-discovery."
Disneyland Paris is expected to reopen on Wednesday.
Flights, trains and ferries into and out of France are all running, but they have warned passengers to allow extra time for border controls.
Tourism warning
Tourism, which accounts for more than 7% of France's GDP, is expected to suffer, but to what degree remains uncertain.
The Paris tourist office said the number of hotel stays fell 3.3% in the first three months of this year following attacks in January, when Islamist gunmen targeted the satirical magazine Charlie Hebdo, a Jewish supermarket and a policewoman on patrol.
Travel and leisure stocks are lower as a result of Friday's events.
Shares in French hotel group Accor fell 4.75% on the Paris exchange, while the country's main airline group Air France-KLM dropped 5.32% and Eurotunnel was 3.04% weaker.
Consumer confidence could also be dented at a time when the French economy is struggling to grow.
Luxury stocks such as Hermes and LVMH closed down more than 1% because a large part of their sales come from foreign tourists flocking to Paris.
Gregoire Laverne, fund manager at Roche-Brune Asset Management, said: "Paris is one of the most important cities worldwide in terms of luxury spending and the timing is not good too - a few weeks before Christmas, the most important period for retailers."
The Euro 2016 football finals in France are expected to go ahead as planned next summer.
The tournament final is due to be held on 10 July at the Stade de France, outside which three suicide bombs were detonated on Friday.
Cancelling the finals would be "playing the game of the terrorists", tournament organiser Jacques Lambert told French radio station RTL.
'Symbolic opening'
Smaller businesses have also continued to operate.
BBC reporter Lucy Burton spoke to a woman selling tickets outside the Laurette theatre, which is along the street from Le Petit Cambodge, one of the restaurants targeted.
"At the moment it is a feeling of sadness and anger," she said, "but also a feeling that life must go on, which is why we're opening, so they haven't won. It is a symbolic opening to show we're not scared."
Another man quoted the French writer Antoine de Saint-Exupery to her.
"He [Antoine de Saint-Exupery] understood that at the worst time of 1940, what was important was that the baker would bake his bread, and the soldier would fight its war, and the teacher would teach, and everyone would do their duty. That's how a country and a nation can overcome such drama."
Mihaela Iordache, who manages the 10 Belles coffee shop, just around the corner from the attacks in the 11th arrondissement, said she planned to donate all of Sunday's profit to the Red Cross for the work it does with immigrants.
'Profound implications'
Prof Tilman Black, director of the Berlin-based International Security and Development Centre, said following previous terror attacks, businesses and markets returned to normal fairly quickly, but the exception was the 9/11 attacks in the US.
"The response of the American government was quite comprehensive, which led to the tightening of security regulations which affected trade. It also meant an increase in government spending. The war in Afghanistan was very expensive," Prof Black said.
Richard Jeffrey, chief investment officer at Cazenove Capital Management, told the BBC's Today programme that the free movement of people within the EU could be a victim of the Paris attacks.
He said it had "profound implications for the single market" if labour movements are restricted, bearing in mind how central the concept is to the union.
The French government has tightened controls on France's borders following the attacks. Every vehicle will be stopped at the French border and there will be checks on everybody's passports, even at borders covered by the Schengen agreement.
A tightening of border security had been planned for this week ahead of climate talks.