Banks and oil drag US markets lower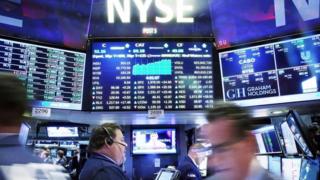 (Close): US stock markets closed down with both energy shares and banks seeing steep declines.
The Dow Jones Industrial Average dropped 254.15 points or 1.44% to 17,448.07.
The broader S&P 500 fell 29.03 to 2,045.97, while the tech-heavy Nasdaq index was down by 61.94 to 5,005.08
Oil prices fell sharply after a report from producers' cartel Opec indicated that the excess in supply would continue.
After falling on Wednesday, Brent crude futures dropped a further $1.68 to $44.13 a barrel, while US crude fell $1.28 to $41.65 a barrel.
Shares in oil giant Chevron dropped 2.5% to $89.86.
Banks also saw heavy sell offs as speculation mounts about a rate rise from the Federal Reserve and the outlook for the global economy.
Shares of Bank of America fell 2.1% and shares of Citigroup sagged 2.6%.
Figures from the US Labor Department showed new applications for unemployment benefits last week remained at 276,000.
Analysts said the figure suggested the labour market remained strong, providing support for those who think the central bank will raise interest rates next month.