Nikkei steady after positive factory data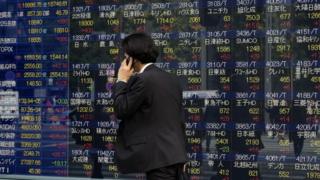 Asian markets remained steady, with Japan's Nikkei closing little changed despite some better-than-expected economic data.
The benchmark Nikkei 225 index closed up 0.03% at 19,697.77 points.
Japan's core machinery orders - seen as a good indicator of company spending - rose by 7.5% in September from a month earlier, the first rise in four months.
Orders were down 1.7% from a year earlier, but this was not as bad as forecasts for a drop of about 4%.
While the numbers were better than expected, analysts said they still reflected the continuing slowdown in China, one of Japan's most important trading partners.
In Australia, the S&P/ASX 200 index also closed flat, up just 0.06% at 5,125.70 despite strong jobs numbers.
The economy created 58,600 net new jobs in October, the data showed, with the jobless rate dropping to 5.9% from 6.2%.
South Korea's benchmark Kospi index closed down 0.15% at 1,994.75 after the Bank of Korea kept its interest rate on hold.
Hong Kong rises
The one bright spot in the region was Hong Kong where the Hang Seng index finished up 2.4% to 22,888.92, boosted by technology shares.
Shares in Chinese computer and smartphone giant Lenovo rose 5.8% after its losses for the three months to September were not as bad as expected.
The company reported a net loss of $714m after taking hefty charges to cover restructuring costs. However, that was better than expectations for a loss of more than $785m.
The Shanghai Composite index ended down 0.5% at 3,632.90.