Chinese data weighs on markets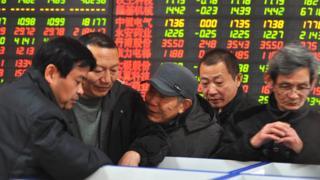 Chinese shares headed lower for much of the day as investors digested more data that indicated the mainland's economic slowdown was continuing.
Factory production grew more slowly than expected in October at an annual pace of 5.6%.
However, fixed asset investment grew by 10.2% - in line with forecasts - while retail sales picked up slightly from September, rising 11%.
In Hong Kong, the Hang Seng benchmark index closed down 0.22% at 22,352.17.
However, after spending much of the day in negative territory, the Shanghai Composite share index recovered in late trade to close up 0.27% at 3,650.25.
Investors' sentiment had already been dented after weak inflation data on Tuesday stoked concerns about slowing Chinese demand.
Louis Kuijs, head of Asia economics at Oxford Economics Hong Kong, said the latest data showed that China's growth remains "two-sided".
"While mining and heavy industry languish, solid consumption supports light industry and, especially services, which together make up two-thirds of the economy," he said.
Rest of Asia
In Japan, the latest Reuters Tankan survey showed that confidence among Japanese manufacturers fell for the third consecutive month in November to the lowest levels for about two and a half years.
Economists said the recent downbeat economic data has increased the likelihood that Japan fell into a recession through September.
Despite this, Japan's benchmark Nikkei 225 index closed up 0.1% at 19,691.39.
In Australia, the S&P/ASX 200 index finished 0.5% higher at 5,122.6, thanks to a bounce in banking shares.
South Korea's benchmark Kospi index ended flat at 1,997.27 after data showed the unemployment rate fell to a nine-month low.
The rate fell to 3.4% in October from 3.5% in September and was equivalent to the low in January.