US markets recover after consumer stock rally in late trading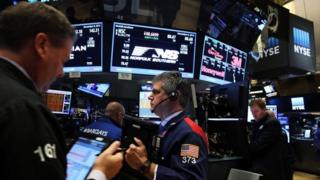 (Close): US markets recovered from early falls to end mostly higher. Tech share losses were offset by gains in Walt Disney and Amazon.com.
Shares in tech giant Apple and clothing retailer Gap were among the losers.
Apple shares dropped 3.2% after Credit Suisse said the maker of the iPhone had cut its orders for components by 10%. The Dow Jones Industrial Average rose 27.93 points to 17,758.41.
The Nasdaq index was down 12.06 points to 5,083.24.
The S&P 500 gained 3.23 points to 2,081.81.
Gap shares fell 5.6% to $26.18 after the fashion retailer reported a 2% fall in third-quarter comparable sales.
In October, comparable sales fell by 3%, which was worse than expected, with sales at Banana Republic down 15%.