National Grid gets back-up power supply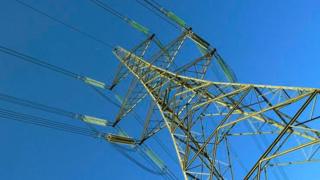 The UK power industry has provided more electricity generation after a request from the National Grid.
There had not been a risk of electricity supplies being disrupted, it said.
National Grid earlier issued a Notification of Inadequate System Margin (NISM) as a result of multiple energy plant breakdowns.
"The market duly responded to this signal," the company said.
The National Grid described the NISM as "one of the routine tools that we use to indicate to the market that we would like more generation to come forward for the evening peak demand period".
An additional 500 megawatts had been requested between 16.30 and 18.30 on Wednesday.
The company last issued a NISM in February 2012, and before that in 2009.
When a notification is issued, generators with spare capacity can respond quickly, ramping up supply within the system.
The National Grid said that if this failed to happen it had standby contracts with some gas-fired stations.
It also has "demand side management" contracts with businesses, which allow the grid to ask them to reduce energy consumption at specified times.
"More generation came forward and about 40 MW of demand side balancing reserve was ordered so the NISM has been withdrawn," National Grid said.
The National Grid plans to increase significantly its use of demand side management to keep the system in balance.
Lower supplies
Last month, the National Grid said gas supplies for the winter months were "comfortable", while electricity supplies were "manageable".
It said the supply of electricity exceeded demand by 5.1%, but only after additional supplies had been secured, such as paying plants to remain on standby.
This is the lowest rate in seven years.
There have been some concerns expressed that the UK could suffer from blackouts as a result of short supplies, brought about in large part from the closure of a number of power stations that have come to the end of their working lives.
Brian Strutton from the GMB union said: "The UK government and National Grid are far too complacent about the risks of widespread power blackouts."
However, the National Grid and many experts have dismissed these concerns.
There has been one generation-related electricity outage in the past 10 years, according to a study commissioned by the Energy and Climate Intelligence Unit.