Barclays to end World Tour Finals sponsorship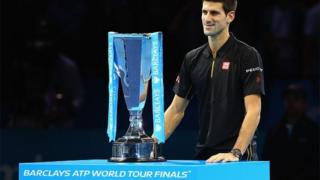 Barclays Bank is to end its sponsorship of the ATP World Tour Finals tennis tournament.
The bank said that "due to changes in commercial priorities" it would not sponsor the event beyond 2016.
It has sponsored the event, which features the top eight men's players in singles and doubles, since 2009 when it moved to London's 02 Arena.
Barclays has also dropped sponsorship of the Premier League and London's "Boris bikes".
A spokesman said the bank was going through a period of change and it was re-assessing the way its portfolio of sponsorships worked for the company.
The bank has not disclosed the value of the tennis deal.
Separately the Daily Mail reported that the World Tour Finals would remain at the 02 Arena until at least 2018. There had been speculation that it would move elsewhere - with interest from North America and Abu Dhabi.
This year's event takes place from 15-22 November.