Sun's internet paywall scrapped by Rebekah Brooks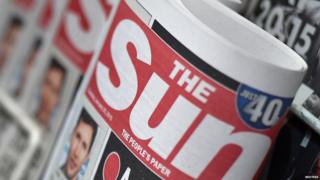 The Sun will scrap the paywall on its website just over two years after it was introduced.
Rebekah Brooks, chief executive of Sun owner News UK, told staff in an email it would make its online stories "largely free" by the end of November.
She said the plan would add readers.
The Sun first started charging customers £2 a week in August 2013. Other newspapers charging for access include News UK's Times newspapers and the Financial Times.
Ms Brooks rejoined Rupert Murdoch's News UK in September a year after she was cleared of conspiracy to hack voicemails, conspiracy to pay public officials and conspiracy to pervert the course of justice.
She replaced Mike Darcey, who had previously worked for BSkyB.
The Sun was first moved behind a paywall in August 2013, although its sister paper the Times made the change in July 2010, when Ms Brooks was in charge of the parent company.
It was the only one of the tabloids to charge for online content.
She said in the email: "As of November 1, Sun+ customers will no longer be billed for reading The Sun's digital content and we will be transitioning to a largely free world by the end of the month."
The Financial Times reported that among the paid-for features continuing would be the fantasy football game Dream Team.