Monsoon Accessorize tops minimum wage list of shame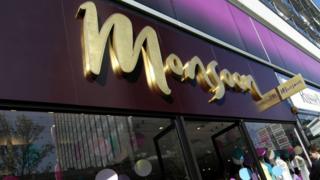 The retailer Monsoon Accessorize has topped the government's latest name-and-shame list of companies who failed to pay the national minimum wage (NMW).
The 115 companies on the list neglected to pay more than £389,000 to workers between them, the government said.
Monsoon - the largest firm on the list - is in the number one slot by some distance for failing to pay £104,508 to 1,438 workers.
The firm said it had taken action to address the shortfall in wages.
The NMW rose to £6.70 an hour on 1 October for workers aged 21 and over.
The top five defaulters were:
Monsoon Accessorize Ltd - £104,508 to 1,438 workers
Tyne & Wear Riding for the Disabled Association - £27,152 to six workers
Project Security UK Ltd - £23,857 to 18 workers
Carl Keith Salons Ltd - £20,535 to five workers
Cornwall Glass & Glazing Ltd - £14,254 to nine workers
Monsoon Accessorize's wages dipped below the minimum because it had a policy of offering staff discounted fashions to wear at work.
The cost was taken off their wages, taking them below the legal threshold.
The company says the issue came to light when the tax authorities reviewed its payroll system, it took prompt action to end it and that basic wages have been raised to prevent any repeat.
'Robust enforcement'
Business Minister Nick Boles said: "Employers that fail to pay the minimum wage hurt the living standards of the lowest paid and their families.
"Next April we will introduce a new National Living Wage, which will mean a £900-a-year pay rise for someone working full-time on the minimum wage, and we will enforce this equally robustly."
Trade union body the TUC welcomed the publication of the list, but estimated that only about a quarter of offenders were being caught.
"Today's list of offenders is only the tip of the iceberg," said TUC general secretary Frances O'Grady.
"I am particularly saddened to see Monsoon Accessorize acting in breach of the law.
"A large firm with thousands of employees has no excuse for not having proper systems in place to ensure staff get their legal wages."
Under 25s
The National Living Wage will be £7.20 an hour from April for workers aged 25 and over, rising to £9 by 2020.
The minimum wage will continue to function as before for those under 25.
Workers aged between 18 and 20 are currently entitled to at least £5.30 per hour while 16 and 17-year-olds have a minimum wage of £3.87 an hour.
Apprentices aged 16 to 18 and those in the first year of their apprenticeships have a minimum wage of £3.30 an hour.
---
Do you work for any of the companies in question? Or do you work elsewhere but are paid less than the minimum wage? If you have any information to share with the BBC, you can email haveyoursay@bbc.co.uk.
Please include a contact number if you are willing to speak to a BBC journalist. You can also contact us in the following ways: